How to fix Errors Establishing a Database Connection in WordPress?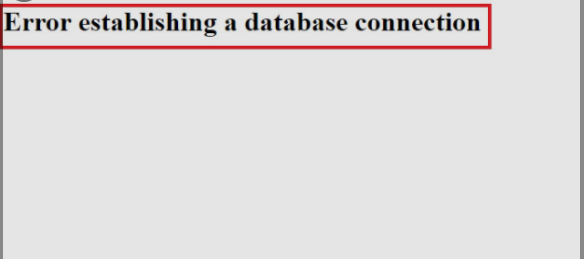 One of the most common problems on WordPress is showing "Error Establishing Database Connection" on your site. When you see the above message on your website that problem is clear. Error Establishing Database Connection showing this problem when don;t connecting on your database with WordPress CMS. In this case, you see this error on your site. When anyone starts a website with WordPress, all his posts, pages and necessary information are saved on WordPress. WordPress helps your website to protect any unexpected situation. So always check your database so that it never shows ERROR ESTABLISHING DATABASE CONNECTION On your site. 
Why do I see ERRor Establishing Database Connection on our website?
As a new Website creator or havn't enough knowledge on WordPress or other causes you see on you browser Error Establishing Database Connection. When you don't know why, you feel afraid . Don;t worry, now we will discuss why show a WordPress website error establishing database connection. Basically , errors establishing database connections show on your site when these problems happen. Just remember these to stay far away from your fears. 
Incorrect Database Information-
Irresponsive Database server-
Corrupted Database-
When one of these problems on your WordPress website, you see Error Establishing Database Connections  That make your website not accessible to anyone. So it creates a bad effect on your website. When you see your website show errors establishing database connection, you try to fix it as soon as possible. If you don't just follow our idea and do it 100% perfectly.
How can I fix ERROR ESTABLISHING DATABASE CONNECTION on my WordPress website?
Most of all time that is a general problem showing WordPress errors caused by some mistake on wp-config.php. Other mistakes created this problem. Now we know why showing an error establishing database connection on any WordPress website. Follow these steps to fix errors establishing database connection on your WordPress website.
Step 1: Check wp-config.php– This is a WordPress file here that keeps all your database information. When you install WordPress you provide a lot of information like your user name, password and server. Wp-config.php collecte this information on the database. If you change something above one, showing an error establishing database connection on your WordPress website. You can find its root directory on your WordPress installation. Seeing error establishing database connection you done this point.
Login your Cpanel
Go to File Manager
Click public_html folder
Find wp-config.php
Open wp-config.php and see your username, database name and password 
Try to check All your information, some missing, you fix it then click save changes. Go to your browser, refresh your site link, see solved error establishing database connection. If don't solved, try the next step.
Step 2: Access wp-admin- This is another cause that you see Error establishing database connection on your WordPress website. When you try to login your WordPress dashboard you can see this problem. Because of different kinds of error messages on databases that need to be fixed. When you Type your website URL like google.com/wp-admin, you see an error establishing a database. Now we know how can fix Access wp-admin, just follow-
Complete these processes and you will see your site perfectly. ***Note: Be sure you remove your previous wp-config.php otherwise anyone accesses this function. That case you see again an error establishing database connection. Do all above steps, not fix errors establishing the database then try next steps.
Step 3:Contact your Hosting Service Provider– When you fail above steps to fix an error establishing database connection, you try to connect your hosting provider's side. Don't working above all steps might be another wrong server. Otherwise MYSQL problem or huge database file size that cause showing error establishing database connection. In this situation, you are talking to your hosting support. Here describe your website problem, they will fix it. Then you refresh your website link and see your WordPress website perfect. 
You may follow more steps here…
Activate the Debug Mode
The first thing you must do is activate debug mode for WordPress in your hosting panel or control panel. You need to go to the section of settings and scroll down till you see "Debug" and activate it.
Run the Debug Commands in WordPress Dashboard
After activating the "Debug mode" in your hosting panel, you must run a separate command from the WordPress dashboard. This is different than running a single console command which has it's own purpose and processing time on server speed.
3 – Restart MySQL Server
Restarting your MySQL will instantly fix any errors that might be occurring within WordPress after installing/upgrading plugins or changing themes/files; etc… To restart an MySQL server, click the settings icon in your hosting panel and scroll down to manage MySQL.
4 – Contact Support Team
The last thing you can do is contact a support team from our WordPress blog or Click Funnels . Luckily for us there are many good ones out there that will be happy to help you solve any issues with your website/blog. You should definitely give them a try, as they may have some ideas on what could resolve the issue you are currently experiencing.
How to avoid ERROR ESTABLISHING DATABASE CONNECTION on my WordPress website?
 Everyone wants his website neat and clean and reaches his targets adi ounces.  But some mistakes don't keep it anymore. Now we know how to keep our site safe without any errors.
Setup strong Username and Passwords
Unique database prefix
Be careful to change anything in cPanel
Change database setting
Provide strong Security system
Using custom functionality
Improve performance   
Always follow above these points you may not face any error in WordPress website. 
Blog Conclusion:
Error Establishing Database Connection. Let us know in the comments below if you have any other tips to fix this error. Blog Conclusion: We have been receiving a lot of emails from our readers who are facing issues while establishing database connection in WordPress. This issue occurs when you are trying to access the WP admin panel but it is not working properly. There are many reasons why this happens, some of them are related to plugins and themes, some of them may be due to your hosting provider's configuration. However, there is one thing that you can do immediately to fix this problem which is as follows.